Books ♡
You Know it's a Verb, Right?
Using everyday language, You Know it's a Verb, Right? is a roadmap with real-life examples that helps you bridge the gap between your technical skills and the leadership skills required to successfully guide individuals, teams, and organizations.
You will embark on a practice that demonstrates that leadership does not happen because you sat in a semester class or because you are a pioneer in your field - it happens because you prepare for it.
BUY HERE ON AMAZON -->
You Know it's a Verb, Right?
In the corporate world, no one tells you how to lead, much less how to be a good or great leader.
You're left to figure it out, and in most cases, with minimal support. And when "management" is freely interchanged "leadership," it can be confusing what leadership really is and how to lead.
Leadership is more than a title or being visible.
So often, people are put in charge of others because of their technical expertise, yet many find they are not prepared to lead.
It can be very difficult for individuals to go from subject matter expert to leader. Many people fail before they realize that to be a good leader takes time, consistency, practice, and a different set of skills.
I Have Three Hopes For You When You Read This Book:
You enjoy reading (or listening to) it and get some value from it.

You realize there's more to leadership than meets the eye.
You feel supported as you cultivate your leadership practice. 
Praise:
"'Being a boss doesn't make someone a leader.' This is a quote from Wayne Applewhite and Jennifer Milius' book on leadership, You Know it's a Verb, Right? That quote rings so true.
People are promoted into supervisory positions, but they don't always possess or care to possess leadership qualities. We've all had bosses like that, making work life miserable.
One of the things I like about this book is a series of questions throughout that allows individuals to reflect on their behaviors and attitudes and examines leadership through the eye of a moral compass.
The book is written for the novice and the long-term leader. But there's something in it for everyone. I also want to highlight that the book is co-authored. As a co-author of a book myself, I know this is not an easy task. However, given the quality of this book, it's obviously a successful partnership."
Pat Black-Gould
---
"I found the 'Wayne remembers' and 'Jen remembers' sections to be particularly useful, as they provide real-life examples that support and illustrate the authors' arguments. The use of plain language makes this audiobook easy to understand and follow. The audio quality is clear, and the narration (done by the authors) is evenly paced, with an appropriate tone and rhythm, which makes it an enjoyable listen. Anyone who wants to improve their leadership skills will appreciate this book."
Reviewed by Kayleigh P. for Readers' Favorite
---
Books ♡
The Einstein & Moo series
My first published works were a rhyming picture book series for young readers about our family's tuxedo kitties.
The Einstein and Moo series is purrfect for children ages 3 through 8 and about two black-and-white, brother and sister kitties who are playful, curious, friendly, and have many interesting adventures. 
BUY AUTHOR SIGNED COPIES HERE -->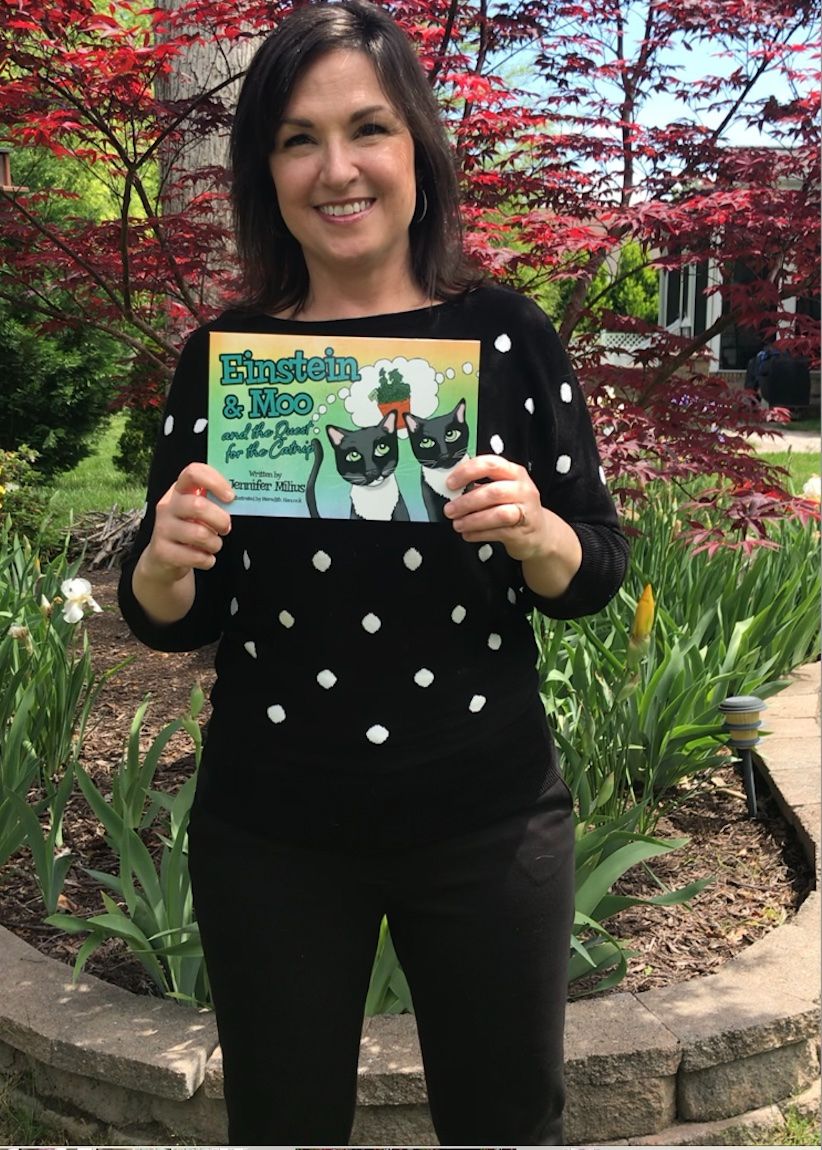 Praise for The Einstein & Moo series

"This author is amazing!!! I am a first grade teacher, and I am so excited to bring this book into the classroom in September. My students are going to love this and the cats (Einstein and Moo). This book is sure to start a conversation about animals and pets throughout any classroom. I may use this exciting read as a writing prompt. You will be missing out if you don't buy this book." - 1st grade teacher
BUY AUTHOR SIGNED COPIES HERE